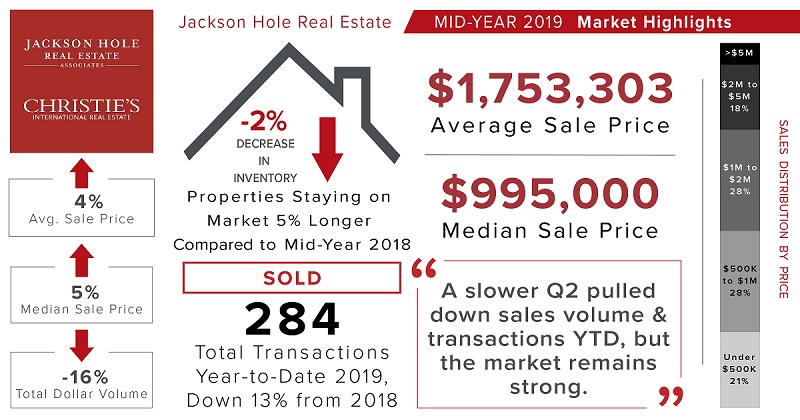 What does it all mean? Lower inventory in Q2 meant fewer closings. Given the amount of pended properties under contract (180 in total), I expect we will see a strong Q3, both in overall sales volume and increased sales prices.
Following an impressive first quarter, real estate sales throughout Jackson Hole cooled off in the second quarter, which caused the cumulative sales volume to finish the first half of the year below 2018 levels. It's worth noting, however, that the dip owes partly to an impressive performance in 2018, rather than a lackluster second quarter this year.
The Jackson Hole real estate market started off strong in 2019, with total dollar volume up 39 percent at the end of the first quarter compared to Q1 2018. Activity then fell in the second quarter, which caused the mid-year dollar volume and number of transactions to decline 16 percent and 13 percent, respectively.
Last year, by contrast, year-over-year sales volume was down through the first quarter, but the market rallied in the second quarter to put mid-year sales up 33 percent compared to the year prior.
Following trends over the past several quarters, overall average and median sale prices increased four percent and five percent, respectively. Inventory continued to tighten, down two percent compared to mid-year 2018, however, the average days on market increased modestly, up five percent compared to the same period a year earlier.
Most property sales in 2019 have been in the $1 million to $2 million range. Condos and townhomes stole some market share from the single-family segment, accounting for 42 percent of transactions in the first half of the year. The near sell-out of the Virginian Village condominium units (which were listed by Jackson Hole Real Estate Associates) helped drive up sales under $500,000 by 38 percent.